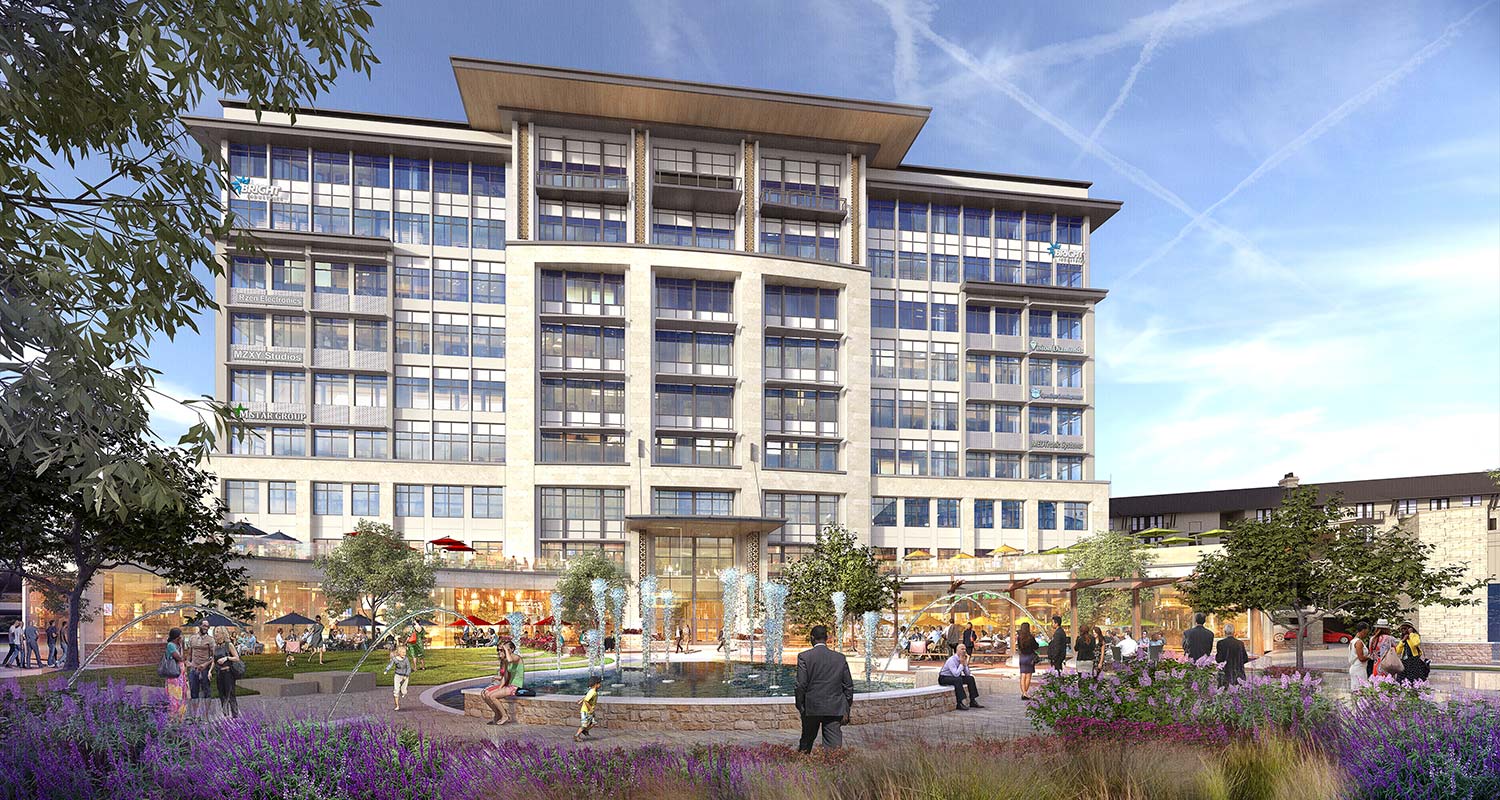 Bright Realty Breaks Ground on The Realm at Castle Hills, a 324-Acre, Mixed-Use Development Featuring Office, Retail, Restaurant, Entertainment and Multi-Family
Offices at The Realm, Restaurants and Park are Phase I of Walkable, Vibrant Community
(Lewisville, TX) – Bright Realty breaks ground today on a 324-acre, mixed-use development, The Realm at Castle Hills, a new lifestyle destination that includes office, dining, retail, entertainment and multi-family developments, located just west of State Highway 121/Sam Rayburn Tollway and Josey Lane in the Castle Hills community in Lewisville. Upon completion, the project will be a seamlessly connected, walkable environment with an extensive trail system. Phase I of the project, Offices at The Realm, is a nine-story Class AA office building consisting of 235,000 square feet of office space and an additional 15,000 square feet of first-floor restaurant space. Situated in front of the office building is Crescent Park, an expansive park and outdoor entertainment space.  The office building and park are scheduled to deliver in mid-2019. Groundwork has also started on Phase II of the project, a 260-unit multi-family complex above 35,000 square feet of retail.
The Realm is a 15-minute drive to DFW International Airport, a two-minute drive to Grandscape and Nebraska Furniture Mart, and a four-minute drive to Legacy West and the corporate headquarters of Toyota, Liberty Mutual, FEDEX and JP Morgan Chase. It offers an easy commute from Plano, Carrollton, The Colony and Frisco.  The Realm is situated on the former H. R. "Bum" Bright family ranch, merging family legacy with a design that maintains natural elements, creating streetscapes that connect office, retail and luxury living into a comfortable yet vibrant setting.
"The demand to live, work and play in the same area has transformed our suburban communities," said Chris Bright, Bright Realty CEO. "The Realm is designed with that in mind and with a focus on an overall quality of life that offers a sophisticated suburban setting with generous outdoor and event spaces. We want people to live, work, play and stay at The Realm and with the varied and numerous lifestyle products we are offering here, they will be able to do just that for generations to come."
Inspiration for the architectural and interior design of the community blends classic forms with contemporary gestures to create a fresh, new interpretation of "Texas Hill Country" and modern design.
"In collaboration with our design partner 505Design, BOKA Powell incorporated contemporary materials into the design of the office building to create a place that is welcoming and refined. The exterior of the building is a blend of limestone, concrete, glass and metal with a 47-foot core-to-glass lease depth and a five-foot grid for ease of space planning," said Chris Barnes, principal-in-charge at Dallas-based design firm BOKA Powell.
Phase I of the project, Offices at The Realm, includes Wi-Fi connected tenant common areas to promote interaction including a community lounge and patio, conference center, rooftop deck seating, computer bars and a fitness center. The office complex also includes ample surface and structured parking. The restaurant space below the office offers a reprieve from the workday with second-floor terraces overlooking Crescent Park, which includes shaded seating, event space, intricately designed water feature with custom water shows sequenced to music and a splash fountain for children and pets. In addition to architect BOKA Powell and design architect and interior designer 505 Design, Offices at The Realm landscape architect is Land Design and general contractor is Hill & Wilkinson. Southwest Bank, a division of Simmons Bank, is the lender for the project.  Colliers International will oversee leasing the office space and Bright Realty is managing the brokerage of the retail/restaurant space.
Phase II of the project, with a delivery date of mid- to late-2020, is a mix of multi-family with first-floor boutique-style retail space. The Realm apartment architect is BOKA Powell; design architect and interior designer is 505 Design; landscape design is Land Design; and general contractor is Andres Construction. Additional phases of The Realm include condominiums, a large amphitheater entertainment district, retail, restaurants and additional multi-family living opportunities.
The Realm at Castle Hills complements Bright Realty's highly successful Castle Hills master-planned community, which currently has almost 4,500 single-family homes; Discovery at The Realm, a luxury, 423-unit multi-family development; Cottages at The Realm, a unique all-rental, single-family home neighborhood; The Lakes at Castle Hills, a private golf course and country club; and the Castle Hills Village Shops, a neighborhood shopping and entertainment destination with condominiums.
Read more about The Realm here: Bright Realty – The Realm.  See a video about Offices at The Realm here: (watch video). For information on leasing office space at Offices at The Realm, contact the Colliers International leasing team. For information on leasing restaurant space at Offices of The Realm, and/or Phase II retail, contact Bright Realty's leasing team.
About Bright Realty
Headquartered in Castle Hills, Bright Realty specializes in residential and commercial land development, including master-planned communities, office, retail and mixed-use lifestyle centers. The company is a full-service real estate firm offering services such as land brokerage; customized property management and accounting; leasing advisory services; owner and tenant representation; project management; asset disposition; golf course operations; and landscape services.
About Southwest Bank
Southwest Bank is based in Fort Worth, Texas.  Southwest Bank is a division of Simmons Bank, based in Pine Bluff, Arkansas, and is a $15 billion regional bank operating in seven states.
 About Colliers International Group Inc.
Colliers International Group Inc. (NASDAQ: CIGI) (TSX: CIGI) is an industry-leading real estate services company with a global brand operating in 69 countries and a workforce of more than 12,000 skilled professionals serving clients in the world's most important markets. Colliers is the fastest-growing publicly listed global real estate services company, with 2017 corporate revenues of $2.3 billion ($2.7 billion including affiliates). With an enterprising culture and significant employee ownership and control, Colliers professionals provide a full range of services to real estate occupiers, owners and investors worldwide. Services include strategic advice and execution for property sales, leasing and finance; global corporate solutions; property, facility and project management; workplace solutions; appraisal, valuation and tax consulting; customized research; and thought leadership consulting.
As Featured in:
    The Dallas Morning News
    Dallas Business Journal
    REBusiness Online