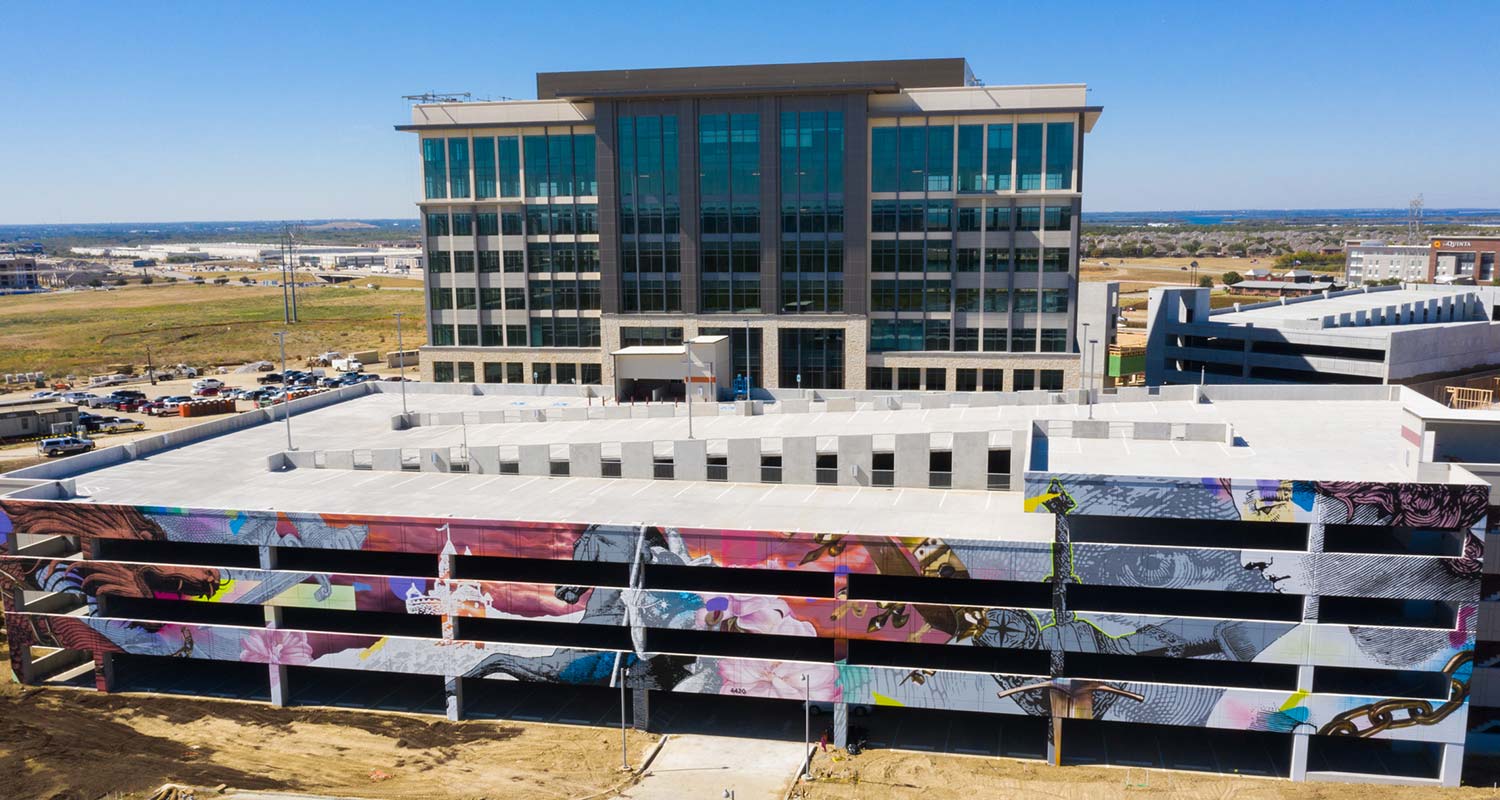 Bright Realty brings 5-story Arthurian-themed outdoor mural to The Realm at Castle Hills
Offices at The Realm adds Insta-worthy public artwork to long list of project amenities
(Lewisville, TX) – Bright Realty is pleased to announce that Offices at The Realm, a nine-story Class AA office building consisting of 235,000 square feet of office space and an additional 16,000 square feet of first-floor restaurant space, is bringing an exciting display of public art to the project. The themed outdoor mural is the first of several planned public works of art created to reflect Castle Hills' identity and character. It features sketches from Bright family patriarch, H. R. "Bum" Bright, and is being created by internationally known muralists. Offices at The Realm is the first phase of The Realm at Castle Hills, located at State Highway 121/Sam Rayburn Tollway and Josey Lane in Lewisville. It is part of the award-winning, 2,900-acre master-planned Castle Hills community that includes single-family homes, multi-family developments, mixed-use, condominiums, townhomes and rental cottages.
The mural, titled Chapter 1: The Threshold, is five stories tall and serves as a threshold or entry point to The Realm. It depicts the legend of King Arthur, a Bum Bright favorite. The stories of King Arthur, Merlin and Lancelot inspired the Bright Realty founder and as a result, his sons named the community, its streets, parks, lakes and other landmarks after references to the Medieval tale. To carry on this family legacy, the artists will weave the family patriarch's sketches into the background of their multi-faceted mural depicting jousting knights, Excalibur, Lady Guinevere and Merlin.  The anticipated completion date for the public art project is early October 2019.
"By embracing public art in this context, we are reinforcing Castle Hills' unique identity while also sharing the color, vibrancy and character found in urban street art. Projects like this increase suburban foot traffic, especially in a walkable project like The Realm, and transform concrete, steel and asphalt into destinations, photo backdrops and community amenities," said Bright Realty CEO Chris Bright. "They also tell the story of the community and provide connectivity between indoor office/retail space and outdoor experiences."
Completing the work are:
Lesli Marshall, project leader, who is a Dallas-based multi-media artist and art consultant. She is serving as a consultant to Bright Realty and curating artists from across the U.S. to contribute to The Realm's long-term visual story. Her work can be seen throughout DFW, including murals in Deep Ellum, at the new Dallas Design District Virgin Hotel, Victory Park and Facebook's Data Center. Marshall (@articulationart) has received local recognition as well as praise from as far as the New York Post.
Drew Merritt (@drewmerritt), a Los Angeles-based artist, is an international phenomenon who contributed to Moscow's Atrium Mall mural and served as muralist for the exterior work coming to the Dallas Design District's Virgin Hotel. He is known for his use of vivid colors and photorealism, transforming his original oil paintings into murals with only the use of spray paint. His work uses a vast array of mediums and textures, and his large-scale works have been described as modern, abstract and impressionistic.
David "Rabi" Torres, also L.A.-based, is an artist whose work can be seen in public collections including the Museum of Contemporary Art Detroit (MOCAD), the MGM Las Vegas and in private collections, such as rapper Sean Combs'. Rabi (@cyrcle) has collaborated on projects with HBO, Google, Audi and has been featured in the New York Times, L.A. Times and Huffington Post.
"The Realm will serve as the public face of the Castle Hills community, one that is home to thousands of families and employees," said Marshall. "We are excited to be a part of this unfolding, multi-chapter visual story, one that guests will see coming together over time."
In addition to the mural, Offices at The Realm will also feature outdoor interactive fountains similar to The Fountains of Bellagio in Las Vegas with water and light shows choreographed to music. The lobby of Offices at The Realm will also feature a 10-foot long, 10-foot wide and 30-inch tall Atlantis-themed aquarium that will feature over 50 custom, hand-sculpted pieces.
Tenants at Offices at The Realm will also enjoy amenities such as a fitness center, a conference center, rooftop deck seating and Crescent Park, which includes shaded seating, event space and a splash fountain for children and pets. Bright Industries and its entities, including Bright Realty, will move into The Realm in October 2019. Venture X, a coworking space on The Realm's entire third flood, will open spring 2020.
For retail leasing at The Realm, contact Britton Lankford, britton.lankford@brightrealty.com, 972-410-6597. For office leasing at The Realm, contact Jake Young, jyoung@lpc.com, 214-740-3436.
About Bright Realty
Founded in the 1950s by the late H.R. "Bum" Bright, former Dallas Cowboys owner and businessman, Bright Realty is the full-service commercial and residential real estate arm of parent company Bright Industries. Led by a family legacy of integrity and dedication, the Bright Realty team acts as developer, owner and operator of its residential and commercial developments. Best known for the highly successful 2,900-acre, master-planned residential community, Castle Hills, in Lewisville, Texas, Bright Realty also specializes in mixed-use, office, retail and multi-family development and brokerage. 
Visit BrightRealty.com or call 972-410-6600. 
About The Realm at Castle Hills
The Realm at Castle Hills is a 324-acre mixed-use development consisting of office, retail and multi-family which blends the sophistication of an urban lifestyle with unique outdoor activity and event spaces. The project at completion will consist of over 5,000 multi-family units; 1.5 million square feet of retail, office and restaurants; a boutique hotel; an extensive trail system; and an outdoor entertainment district. It is located on State Highway 121/Sam Rayburn Tollway, just two minutes from Grandscape and Nebraska Furniture Mart; four minutes from Legacy West, Toyota HQ, Liberty Mutual, FedEx and JPMorgan Chase; and 15 Minutes from DFW Airport.  
As Featured in: