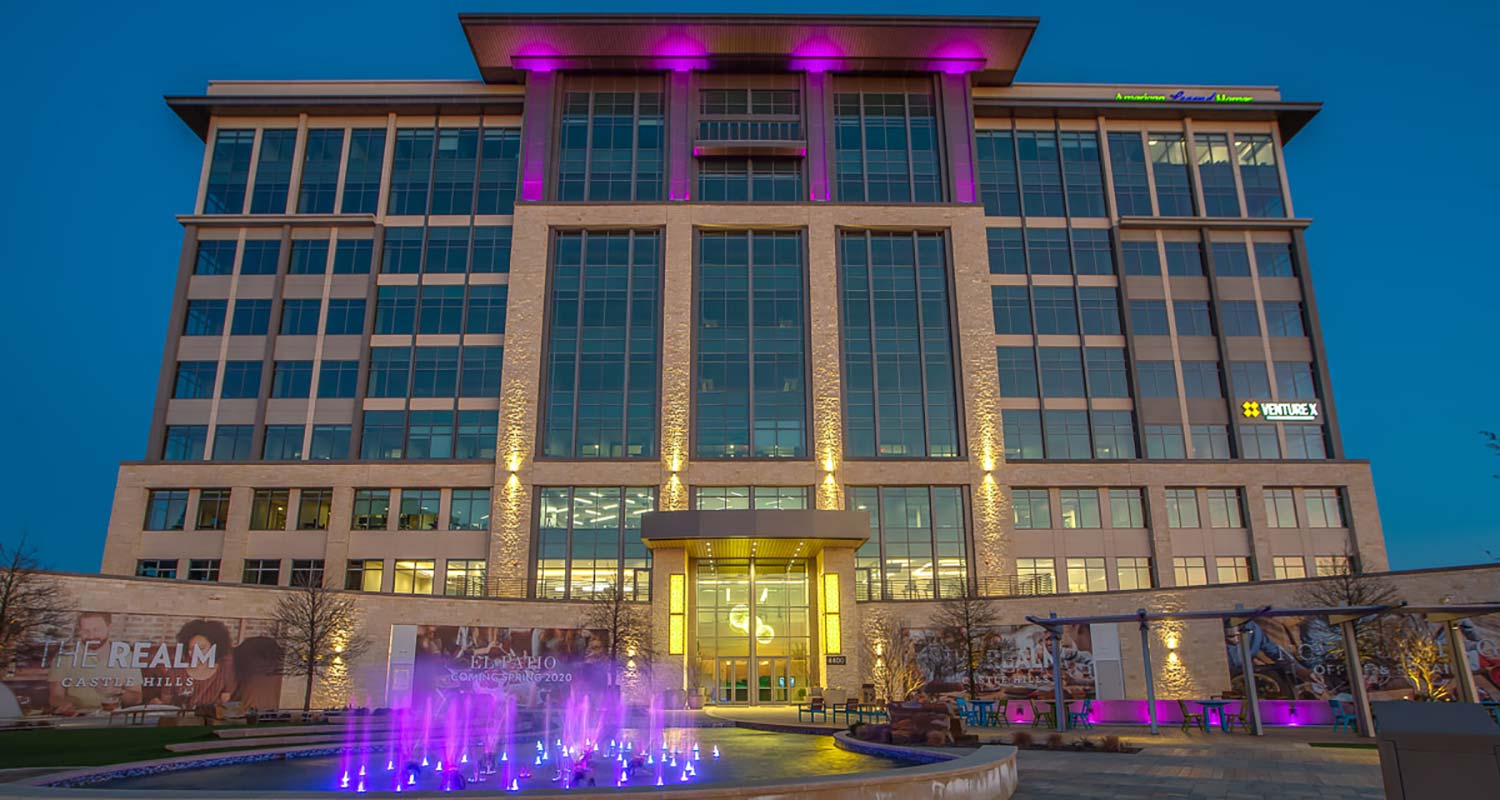 Hill & Wilkinson Completes Construction on Bright Realty's Phase I of The Realm at Castle Hills
Offices at The Realm marks opening with completion of 5-story public mural 
(Lewisville, TX) – Bright Realty and Hill & Wilkinson General Contractors are pleased to announce the construction of Phase I of The Realm at Castle Hills is complete. Offices at The Realm is a nine-story Class AA office building consisting of 235,000 square feet of office space and an additional 16,000 square feet of first-floor restaurant space. It features a 5-story, Arthurian-themed outdoor mural created by three internationally known muralists that reflects Castle Hills' character and identity. (SEE MURAL VIDEO HERE.) The Realm at Castle Hills, upon completion, will be a $1.5. billion, 324-acre mixed-use development with office, retail, multi-family, a boutique hotel, extensive trail system and outdoor entertainment district. The development is part of the master-planned Castle Hills community and located at State Highway 121/Sam Rayburn Tollway and Josey Lane in Lewisville.
One of the development's most unique amenities is its five-story, Arthurian-themed mural. It is the first of several planned public artworks and embraces the community's unique identity with its images of jousting knights, dragons, Excalibur, Lady Guinevere and Merlin. "Chapter 1: The Threshold," which reflects the mural's point of entry into the community, was completed by art curator Lesli Marshall and muralists Drew Merritt and David "Rabi" Torres.
"Office settings today need to provide more than just a place to sit at a desk. They need to be experience-driven environments that encourage interaction and enhance not only the workplace setting, but offer a respite from the workday with onsite retail, entertainment, green space, public artwork and a variety of walkable multi-family and single-family products," said Bright Realty CEO Chris Bright.
"The mural is a community centerpiece that will encourage dialogue and excitement about Castle Hills and inspire people to slow down and take in their beautiful surroundings. It also celebrates the history of the community," said artist Lesli Marshall.  "One of the most unique aspects of the mural is the integration of sketches by family patriarch 'Bum' Bright, whose love of all things King Arthur was the inspiration of the Castle Hills theme."
Additional amenities offered by Offices at The Realm are a fitness center, a conference center, rooftop deck seating and Crescent Park, which includes shaded seating, event space and a splash fountain for children and pets. The building also features Wired Certification, a WiredScore program that rates the digital infrastructure and connectivity of a commercial office building, ensuring that a building can support tenant connectivity needs and reducing the risk of loss and interruption.
"There were many interesting aspects to this project and we really enjoyed fulfilling Bright Realty's vision," said Coty Frye, project executive for Hill & Wilkinson. "From the very elaborate courtyard with extensive landscaping, to the covered boardwalk and public artwork, the developers thought of everything to make this a true destination." The cast-in-place office building features elements such as limestone masonry, a covered boardwalk, pre-cast panels, metal panels and a curtain-wall façade.
Next on the list for public art at The Realm is a painting on the top of the over-sized Lost City of Atlantis aquarium in the Offices at The Realm lobby.  Offices at The Realm will also feature outdoor interactive fountains similar to The Fountains of Bellagio in Las Vegas with water and light shows choreographed to music. 
Bright Realty has signed tenants for the property including Venture X, a coworking company leasing 30,371-square-feet, the entire third floor; El Patio, a restaurant featuring a blend of Mexican cuisine and Texas barbecue leasing 3,800-square-feet; and a title insurance company leasing 4,000-square-feet.
Offices at The Realm is also the headquarters for Bright Industries and its entities Bright Realty, Bright Equities, Bright Wealth Management, American Legend Homes, Belclaire Homes, Avanti Custom Homes, golf operations for The Lakes at Castle Hills and corporate hospitality management for Tres Mil Ranch, taking up a total of two floors equaling 60,742 square feet.
Phase II of The Realm at Castle Hills, Valor at The Realm, is a 260-unit, five-story, Class A apartment community with ground-floor restaurant and retail space planned to deliver in the fall of 2020.
In addition to Bright Realty and Hill & Wilkinson, partners on the project are architect BOKA Powell; design architect/interior designer 505 Design; landscape architect Land Design; and lender Southwest Bank, a division of Simmons Bank. For retail leasing at The Realm, contact Britton Lankford, britton.lankford@brightrealty.com, 972-410-6597. For office leasing at The Realm, contact Jake Young, jyoung@lpc.com, 214-740-3436.
About Bright Realty
Founded in the 1950s by the late H.R. "Bum" Bright, former Dallas Cowboys owner and businessman, Bright Realty is the full-service commercial and residential real estate arm of parent company Bright Industries. Led by a family legacy of integrity and dedication, the Bright Realty team acts as developer, owner and operator of its residential and commercial developments. Best known for the highly successful 2,900-acre, master-planned residential community, Castle Hills, in Lewisville, Texas, Bright Realty also specializes in mixed-use, office, retail and multi-family development and brokerage. 
Visit www.BrightRealty.com or call 972-410-6600. 
About The Realm at Castle Hills
The Realm at Castle Hills is a 324-acre mixed-use development consisting of office, retail and multi-family which blends the sophistication of an urban lifestyle with unique outdoor activity and event spaces. The project at completion will consist of over 5,000 multi-family units; 1.5 million square feet of retail, office and restaurants; a boutique hotel; an extensive trail system; and an outdoor entertainment district. It is located on State Highway 121/Sam Rayburn Tollway, just two minutes from Grandscape and Nebraska Furniture Mart; four minutes from Legacy West, Toyota HQ, Liberty Mutual, FedEx and JPMorgan Chase; and 15 minutes from DFW Airport.  
About Hill & Wilkinson General Contractors
With 50 years in the construction business, Hill & Wilkinson (www.hill-wilkinson.com) consistently ranks among the top 400 contractors in the U.S., according to Engineering News-Record. The firm, known for its culture, has been named a Best Place to Work by the Dallas Business Journal in multiple years. Hill & Wilkinson is a diversified general contractor overseeing all facets of ground-up and renovation construction and is headquartered in Richardson, Texas with additional offices in Austin and Lubbock.
As Featured in: