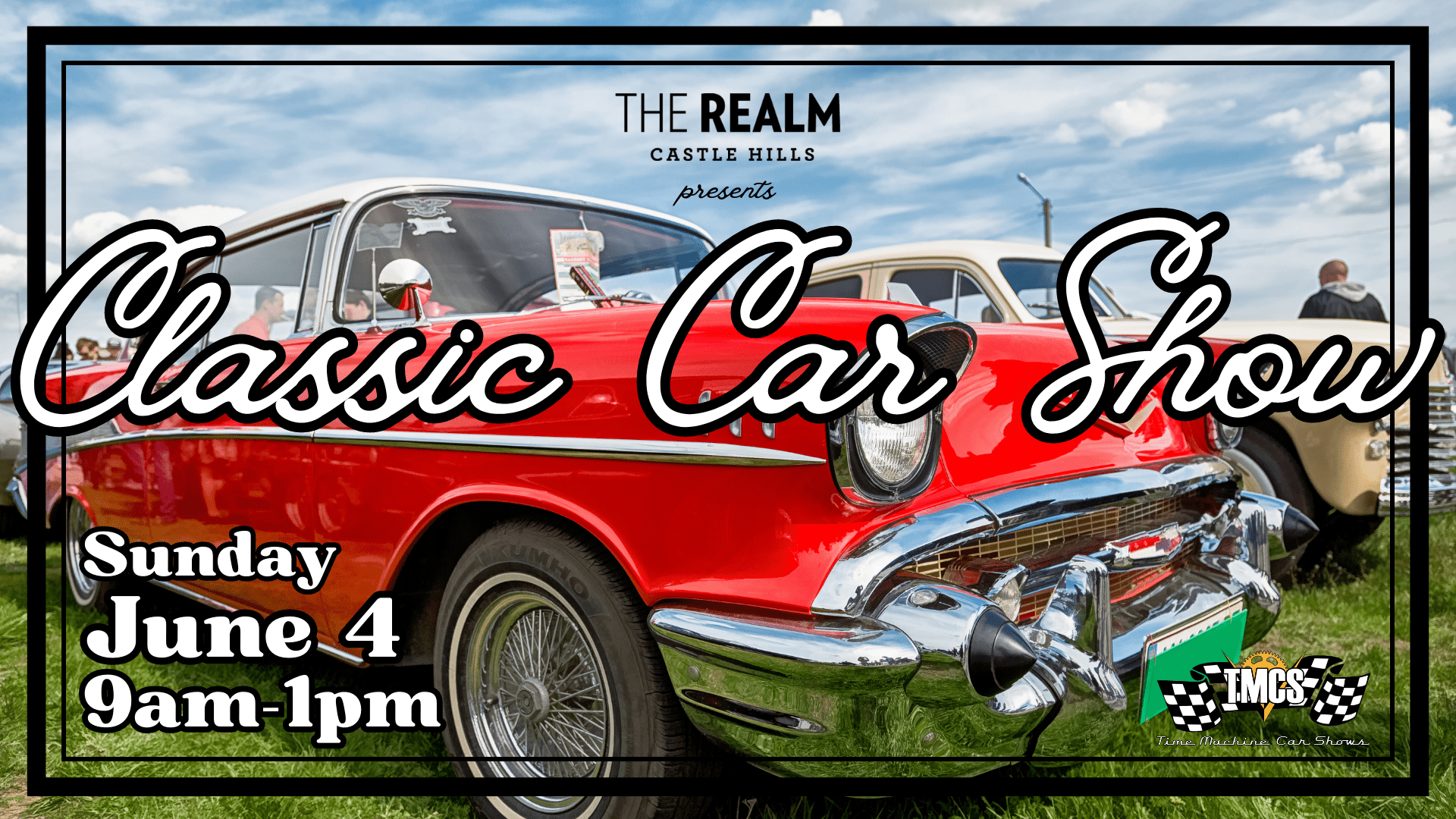 Classic Car & Truck Show Rolls into The Realm at Castle Hills
The Classic Car & Truck Show will be cruising to The Realm at Castle Hills on Sunday, June 4, from 9 a.m. to 1 p.m. The Realm at Castle Hills is located at 4400 SH 121 in Lewisville. The event is FREE for spectators, and everyone is welcome!
The event will bring together car enthusiasts from all over the area for a day of classic cars, food, and fun. Attendees will have the opportunity to see some of the most impressive classic cars in the region, as well as meet and talk with the owners.
Time Machine Car Shows showcases an array of classic cars and trucks from various eras, including vintage hot rods, muscle cars, and more – some with cutting-edge technology. If you wish to display your classic beauty, registration is open from 8 a.m. to 10 a.m. with an entry fee of $10. Participants in the car show have the opportunity to win prizes and awards in several categories, including Best of Show Car and Best of Show Truck. To learn more about exhibiting cars, please contact Ray at Ray@TimeMachineCarShows.com or 940-600-9651.
While your eyes are feasting on the gorgeous classic cars on display, indulge in some of the amazing retailers at The Realm: 206 Luster Grill, Seattle-style teriyaki-inspired dishes and sushi; El Patio Mex-Tex, a blend of authentic Mexican cuisine and true Texas barbecue; the Food Network-featured The London Baker; Worth the Pour, a high-end spirits retailer that offers tasting and unique products; Mochinut, a combination of an American doughnut and Japanese mochi; Bahama Bucks, neighborhood favorite known for its more than 100 flavors of shaved ice, smoothies and lemonades; Salubrious Juice & More, offering organic juices and juice cleanses, acai bowls, smoothies, paninis and avocado toast; and coming soon Food Morning and Grimaldi's.
In the event of inclement weather, please visit The Realm at Castle Hills Facebook page for event updates.
About The Realm at Castle Hills
The Realm at Castle Hills is a 324-acre mixed-use development consisting of office, retail and multi-family which blends the sophistication of an urban lifestyle with unique outdoor activity and event spaces. The project at completion will consist of over 5,000 multi-family units; 1.5 million square feet of retail, office and restaurants; a boutique hotel; an extensive trail system; and an outdoor entertainment district. It is located on State Highway 121/Sam Rayburn Tollway, just two minutes from Grandscape and Nebraska Furniture Mart; four minutes from Legacy West, Toyota HQ, Liberty Mutual, FedEx and JPMorgan Chase; and 15 minutes from DFW Airport.
About Castle Hills
Castle Hills, an award-winning Bright Realty development, is a 2,900-acre master-planned and mixed-use community located in Lewisville, Texas. Since welcoming its first residents in 1998, Castle Hills has continued to evolve as a community for people to live, work, play and thrive. With a convenient location that is close to freeways, airports and major corporate headquarters, Castle Hills has expanded to include two large mixed-use communities, The Realm at Castle Hills and Crown Centre at Castle Hills. The community continues to be recognized as one of the premier communities in north Dallas with abundant office, living, shopping and dining. www.CastleHills.com.