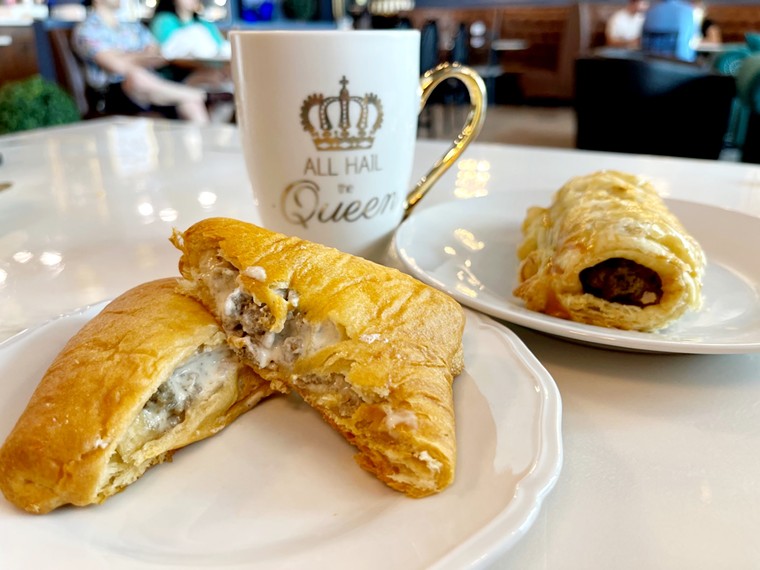 In Search of Scones at The London Baker

The London Baker is an English-influenced bakery that recently opened a new location in The Realm in Lewisville. This spot serves the full slate of coffees, teas and pastries we'd expect in any Dallas cafe, along with British favorites, which is what attracted us. Google on June 10 celebrated scones, the classic British afternoon tea treat, so, naturally, we went hunting.
Piloting this concept is baker Elizabeth Rowe, a wedding cake designer whom you may know from the Food Network show Cake Wars. Rowe opened the first London Baker location in Lewisville in 2018 at Castle Hills.
The large cafe has high ceilings, big plush booths and lounge seating centered on a faux (but cute) fireplace. Walls are bathed in a trendy bluish-gray hue illuminated by a mix of gold chandeliers, straddling the line between posh and classy.
Lattes are served in All Hail the Queen mugs (we won't tell them if you don't), and pastries are served on real plates, not just shoved in a paper sleeve. All very proper.
The craft espresso menu uses beans from Dallas' own Cultivar. The caffeinated options here are extensive. From lattes (such as the crème bru-latte and butterbeer latte) to mochas, cappuccinos and macchiatos, we counted 17 different options, flavored with from-scratch syrups. All are served hot or iced, your choice. Frappes? Check. English teas? Of course.
Our heads spinning with the plethora of choices, we finally settled on the nonalcoholic vanilla whiskey latte ($6), honey lavender latte ($4.70) and honey rosemary latte ($4.70). All were iced, and all had varying degrees of flavor. The whiskey latte had a subtle hint of whiskey, the rosemary latte was even more subtle, and the honey lavender was the most noticeably flavored of the three. But we enjoyed them all.
We tried three of the six scones available: the bacon and cheddar ($4), sun-dried tomato and Parmesan ($4) and, for a sweet touch, the lemon blueberry ($3.75). Also offered are the classic English, strawberry and cream, and Earl Grey and lavender. The savory sun-dried tomato and Parmesan scone was the biggest crowd-pleaser at the table.
But the show-stealer this afternoon was the country sausage pasty pillow ($4). Flaky dough encases a warm center of sausage gravy. This creation had us right back in line, where we promptly wiped out the last three in the case, getting them to go so we could have them for breakfast the next day. We also recommend the croissant-wrapped sausage roll ($4.50) and spinach and feta Danish ($3.85), but truth be told, everything in the case was enticing.
Like the drink menu, the snack options here are plentiful. Artisan deep dish cookies, cupcakes, cake truffles and brownies are available, as are breakfast items like a bacon, egg and cheese muffin sandwich topped with poppy seed glaze and Westminster waffle cakes served with a house-made syrup.
The London Baker, 4440 State Highway 121, No. 60, Lewisville. Tuesday – Friday, 7 a.m. – 7 p.m.; Saturday, 8 a.m. – 8 p.m.; Sunday, 9 a.m. – 4 p.m. Closed Monday.
Nick Reynolds, Dallas Observer