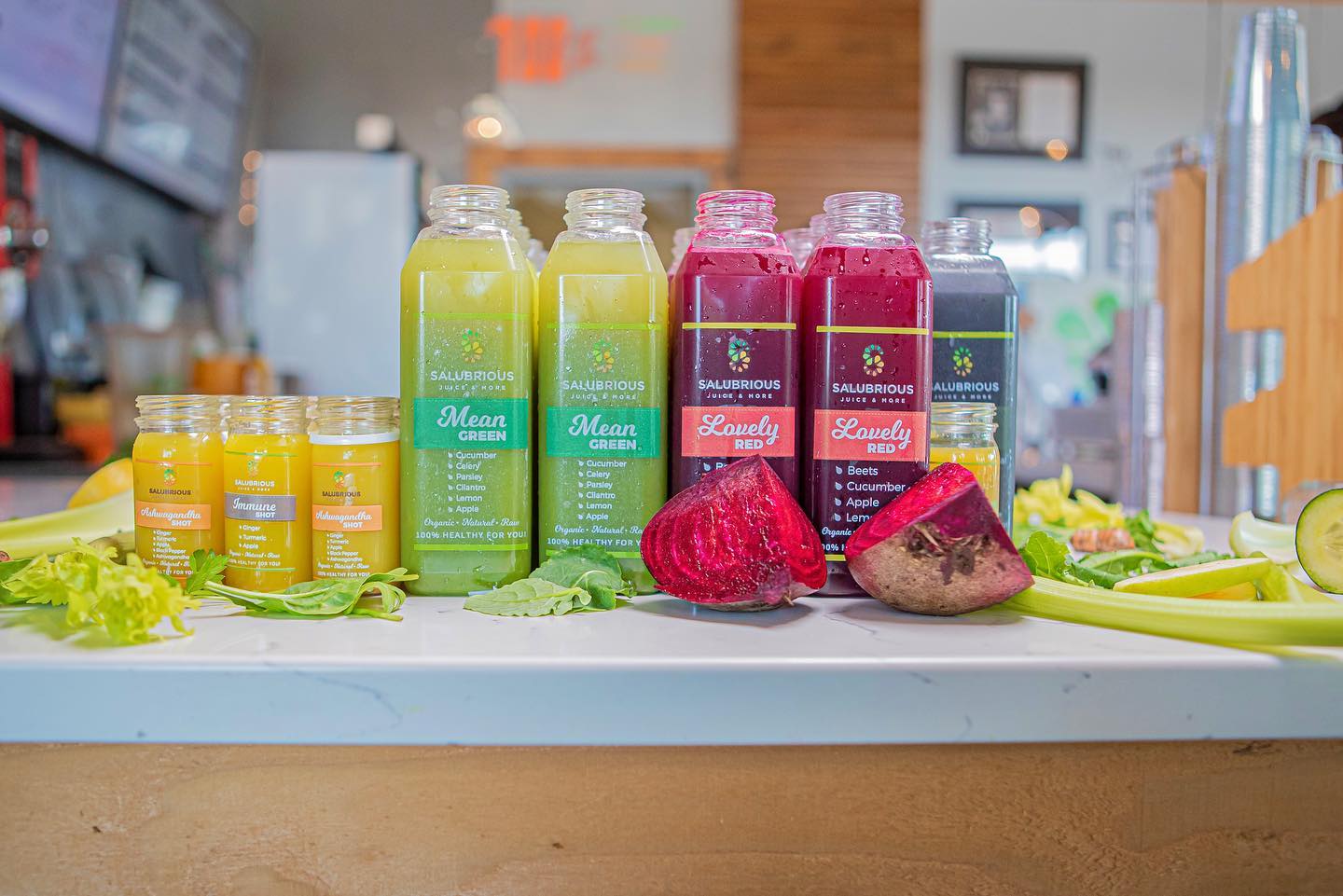 Former Marine "deploys" Salubrious Juice & More at The Realm at Castle Hills
March 21, 2022 (Lewisville, Tx) – The Realm at Castle Hills is welcoming Salubrious Juice & More to its mixed-use destination in Lewisville. The Realm at Castle Hills is a 324-acre mixed-use development consisting of office, retail and multi-family. It is located at SH 121 and Josey Ln. in Lewisville. Salubrious Juice & More will offer organic juices and juice cleanses, acai bowls, smoothies, paninis and avocado toast.
Ajay Sharma, the proprietor of Salubrious Juice & More, is a McKinney resident and former Marine who served in Iraq and Afghanistan as a translator. In 2010, after dealing with chronic exhaustion that threatened his military career, he sought out a lifestyle change. While the source of Sharma's exhaustion was unknown, he felt strongly that his diet was to blame.
"Every deployment we eat MREs (Meal, Ready to Eat), food with no expiration date. It doesn't take a rocket scientist to figure that's not good," said Sharma, a 2016 SMU graduate. "And when I got home, my diet was even worse than when I was deployed: Big Gulps, microwaved Hot Pockets, Doritos."
Sharma decided to research self-healing strategies and settled on creating and consuming fresh green juices and smoothies for a full 30 days.
"Green juices were the prescription for putting my body in an alkaline state. The juices tasted horrible, but I didn't care, taste was the last thing on my mind. I persisted for 30 days even though the green juices made me miss MREs!" said Sharma. "I hoped the juice fast would be helpful. Instead, it essentially gave me my life back. Today, I am full of energy. I run or workout every day. I jump out of bed easily. I show up to work early and enthusiastic."
After Sharma's turnaround, his friends and colleagues were interested in his juice recipes. He set out to improve the taste without compromising the nutrients and after much experimenting, was pleased with the results. After getting exceptionally positive feedback from those who tried his juices, he decided to share his recipes at his first Salubrious Juice & More in Frisco in 2016. The Castle Hills store is the second location.
"All of our juices are extracted from organic fruits and vegetables with a hydraulic press, which serves to preserve optimal nutrients. The juices are easy to digest due to a lack of pulp, contain no added preservatives or sugars, have vitamins and minerals, and have a longer shelf life than average store-bought juices," added Sharma.
The Evergreen smoothie contains mango, pineapple, kale, spinach and dates; the Fruit Salad smoothie is made from strawberries, blueberries, mango and mint. The acai bowls are additive-free and feature an assortment of tasty toppings including berries, healthful nuts, mangos, bananas and more. Salubrious juices are 100% organic and fresh. The Rise and Shine cleanse, for example, features an eye-opening blend of carrots, oranges, apples and lemons. The Mean Green juice includes a robust blend of parsley, celery, cucumbers, cilantro, apples and lemons.
"I chose The Realm at Castle Hills for my newest location for several reasons: the tremendous growth along SH 121, the exceptional visibility The Realm provides in that area, and I want to be a part of the high-end and unique retailers that The Realm is attracting," added Sharma. Salubrious Juice & More joins the second location of the Food-Network featured The London Baker; Worth the Pour, a luxury liquor store that provides tasting events and personalized services; and El Patio Mex-Tex, a restaurant that fuses Texas barbecue with traditional Mexican dishes and also has a busy rooftop patio.
"Salubrious means 'to promote health.' I jump out of bed every day happy, passionate, on time and ready to promote health. Marines love a good mission, and this is mine! I call it my 5th deployment," said Sharma.
Salubrious Juice & More opens April 1 at The Realm at Castle Hills, a Bright Realty development, Monday – Saturday, 8 a.m. – 7 p.m. and Sunday, 9 a.m. – 6 p.m.
About Bright Realty
Founded in the 1950s by the late H.R. "Bum" Bright, Bright Realty is the full-service commercial and residential real estate arm of parent company Bright Industries. Led by a family legacy of integrity and dedication, the Bright Realty team acts as developer, owner and operator of its residential and commercial developments. Best known for the highly successful 2,900-acre, master-planned residential community, Castle Hills, in Lewisville, Texas, Bright Realty also specializes in mixed-use, office, retail and multi-family development and brokerage.  www.BrightRealty.com.
About The Realm at Castle Hills
The Realm at Castle Hills is a 324-acre mixed-use development consisting of office, retail and multi-family which blends the sophistication of an urban lifestyle with unique outdoor activity and event spaces. The project at completion will consist of over 5,000 multi-family units; 1.5 million square feet of retail, office and restaurants; a boutique hotel; an extensive trail system; and an outdoor entertainment district. It is located on State Highway 121/Sam Rayburn Tollway, just two minutes from Grandscape and Nebraska Furniture Mart; four minutes from Legacy West, Toyota HQ, Liberty Mutual, FedEx and JPMorgan Chase; and 15 minutes from DFW Airport.