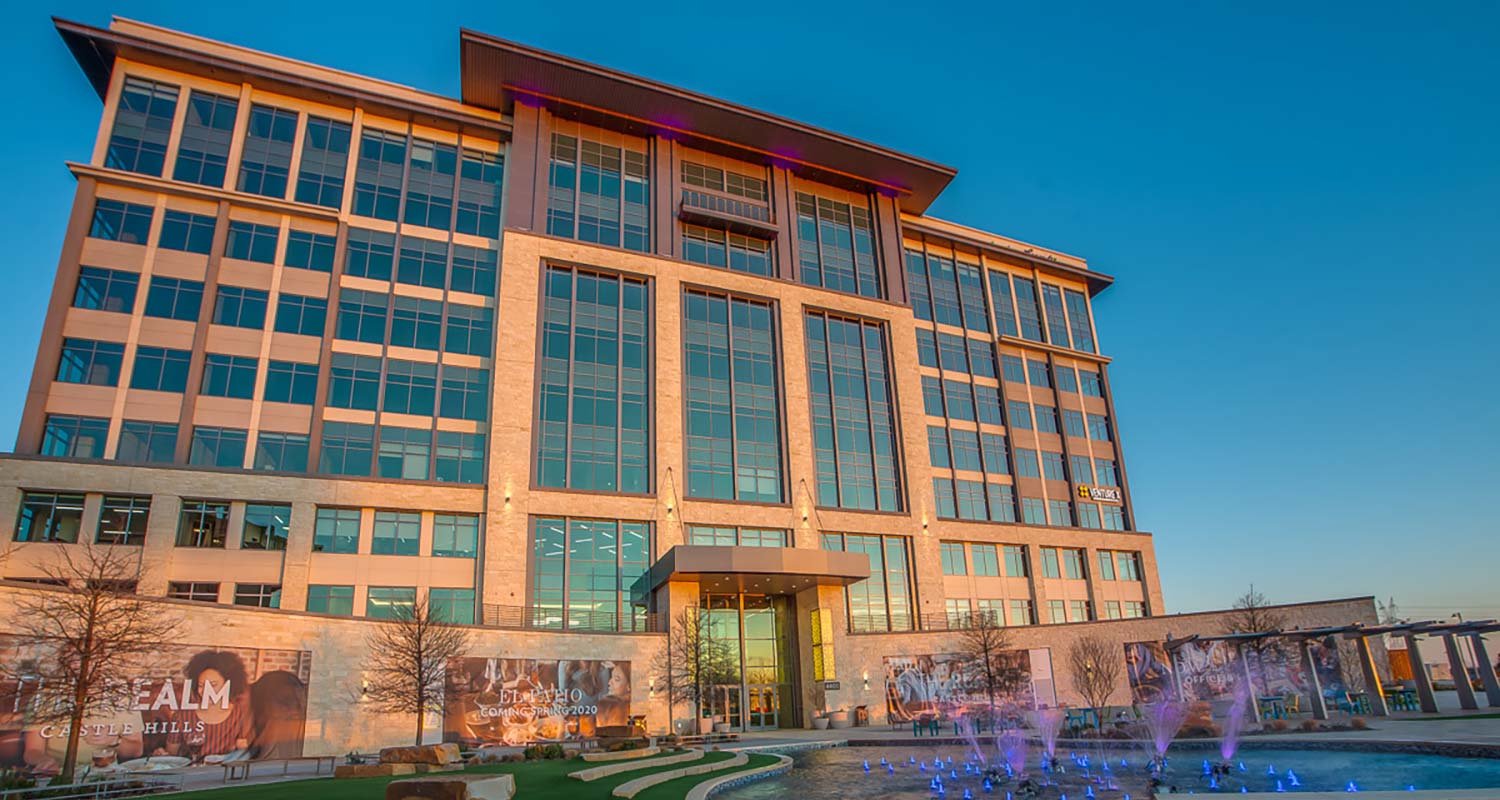 Bright Realty signs three new tenants to Offices at The Realm at Castle Hills
Global Medical Response, a company on the frontline in the battle against COVID-19, takes two full floors of new office building
June 15, 2020 (Lewisville, TX) – Bright Realty successfully finalized three new tenant leases at Offices at The Realm at Castle Hills, a nine-story Class AA office building consisting of 235,000 square feet of office space and an additional 16,000 square feet of ground-floor restaurant and retail space. These three transactions bring the building to 80 percent leased. Offices at The Realm is located at State Highway 121/Sam Rayburn Tollway and Josey Lane in Lewisville and is part of the 324-acre master-planned The Realm at Castle Hills.
Global Medical Response, the world's largest medical transport company, has leased 60,000 square feet –two full floors– at Offices at The Realm. Global Medical Response has more than 38,000 employees nationwide who provide medical care primarily in the areas of emergency and patient relocation services, fire services and disaster response. GMR's Offices at The Realm location will serve as one of two headquarter locations and will include a 24/7 disaster relief call center. Employees relocating to The Realm are coming from GMR's offices in Lewisville and Farmers Branch; a number of GMR's Denton employees will also office at The Realm.
"Global Medical Response sent more than 1,500 employees to New York and New Jersey to serve on the frontline in the battle against COVID-19," said Lucas Patterson, Bright Realty EVP. "We are proud, now more than ever, to have a tenant with this level of commitment and compassion officing at The Realm."
"Offices at The Realm is the ideal space for our DFW-based employees," said Randy Owen, GMR CEO. "We wanted one location to bring some of our metroplex teams together with easy access to major thoroughfares and DFW International Airport, as well as access to top-notch amenities and technology. Our team members will also appreciate the clean, contemporary design of the interior space as well as the outdoor areas."
Lincoln Property Company's Worthey Wiles, Jake Young and Dalton Stogner represented Bright Realty in this transaction; JLL's Kevin Mechelke, John Ruskin, Greg Biggs, and Jeremy McGown represented the tenant.
Additionally, CSC Corptax, a tax software provider, has leased 15,000 square feet. Lincoln Property Company represented Bright Realty in the transaction; Cushman & Wakefield represented the tenant. Texas VA Mortgage also leased 4,000 square feet at Offices at The Realm. Lincoln Property Company represented Bright Realty in the transaction; Swearingen Realty Group represented the tenant.
Earlier this year, tenant Venture X opened its new 30,000-square-foot coworking space, which takes up the entire third floor. The flexible, upscale office space offers workstyle options from open community work areas and shared desks to private offices and meeting rooms.
All tenants at Offices at The Realm at Castle Hills enjoy first-floor restaurants and retail; a tech lounge and conference center; a fitness facility with locker rooms, showers and changing rooms; and Crescent Park, an outdoor space for relaxing throughout the day with a Bellagio-style water feature. It also is one of very few buildings in North Texas that is Wired Certified by WiredScore, which guarantees best-in-class Internet connectivity in commercial buildings.
First floor restaurant space includes El Patio, is a 3,800-square-foot casual concept from Chef Salvador Hernandez at The Lakes at Castle Hills private golf and country club. It will feature what the chef calls "Mex-Tex," a blend of authentic Mexican cuisine and true Texas barbecue, and open late summer 2020.
Offices at The Realm is the first phase of The Realm at Castle Hills, a 324-acre, mixed-use lifestyle destination that includes office, dining, retail, entertainment and multi-family developments. It is a suburban live/work/play community close to DFW International Airport, outstanding schools, thriving businesses and a variety of affordable multi-family, single-family, townhome and condominium products in the Castle Hills community. Future phases of The Realm at Castle Hills currently under construction include Valor at The Realm, 260 apartments above 37,000 square feet of retail delivering this fall; Discovery at The Realm Phase II, 312 apartments delivering this summer; Sojourn condominiums, 80 units over 8,000 square feet of retail delivering in late spring; and Aura at The Realm, 400-plus apartments over 45,000 sf of restaurant and retail space delivering in 2021.
The development is located in the Upper Tollway submarket of Dallas just west of State Highway 121/Sam Rayburn Tollway and Josey Lane. The Realm is a 15-minute drive to DFW International Airport, a two-minute drive to Grandscape, and a four-minute drive to Legacy West and the corporate headquarters of Toyota, Liberty Mutual, FEDEX and JP Morgan Chase. It offers an easy commute from Plano, Carrollton, The Colony and Frisco.  BOKA Powell is architect for Offices at The Realm; design architect/ interior designer is 505 Design; landscape architect is LandDesign; general contractor is Hill & Wilkinson; Southwest Bank, a division of Simmons Bank, is lender for the project; Canyon Partners is lending partner. Lincoln Property Company is leasing the office space; Bright Realty is managing the brokerage of the retail/restaurant space.
Read more here. 
About Bright Realty
Founded in the 1950s by the late H.R. "Bum" Bright, former Dallas Cowboys owner and businessman, Bright Realty is the full-service commercial and residential real estate arm of parent company Bright Industries. Led by a family legacy of integrity and dedication, the Bright Realty team acts as developer, owner and operator of its residential and commercial developments. Best known for the highly successful 2,900-acre, master-planned residential community, Castle Hills, in Lewisville, Texas, Bright Realty also specializes in mixed-use, office, retail and multi-family development and brokerage. 
Visit www.BrightRealty.com or call 972-410-6600. 
Photo credit: Bright Realty
As Featured in:
Dallas Morning News
CoStar
Dallas Business Journal
Bisnow
Connect Texas CRE News